There are many Medigap companies offering plans for to people on Medicare. With the ongoing and coming wave of "Baby Boomers" hitting Medicare eligibility, the list of insurance companies participating in the Medigap insurance market is ever-increasing.
What are the Most Common Medigap Companies?
There are at least 40 insurance companies offering Medigap plans at the time of this article. This does change from time to time – also, it varies by state. In other words, not all Medigap companies offer plans in each state.
Of course, the "big name" companies offer Medigap plans – to name a few, United Healthcare/AARP, Blue Cross/Blue Shield, Aetna, and CIGNA. However, the big name companies are not necessarily the best "deal" in all cases. Medigap premiums are very specific to your age, location, and gender, so it is crucial to compare Medigap companies based on your specific situation before choosing a plan.
Below is a partial list of Medigap companies that are currently offering plans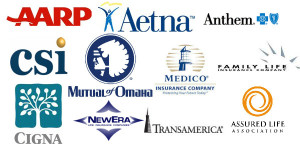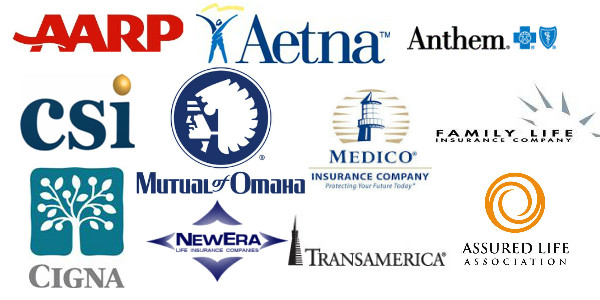 (no particular order).  You can find information about Medigap plans, specific to your zip code, on Medicare.gov; however, in the past, that information has not been kept current. Keep in mind that, although you have not heard of some of these companies, they offer the same standardized plans, provide the same coverage, can be used the same places (anywhere that takes Medicare) and pay claims through the Medicare "crossover":

Mutual of Omaha (also known as United World, United of Omaha, and Omaha Insurance Company)
United Healthcare/AARP
CIGNA (also known as CIGNA Health and Life Insurance Company and American Retirement Life Insurance Company)
Aetna (also known as Continental Life, American Continental, and Aetna Health and Life Insurance Company)
Transamerica (also known as Transamerica Premier Life)
Central States Indemnity (also known as CSI Life)
Manhattan Life
Bankers Fidelity Life Insurance Company
Liberty Bankers Life
Blue Cross/Blue Shield (varies by state)
Gerber Life
Equitable
Assured Life
Medico
New Era Life (also known as Philadelphia American or New Era Midwest)
Combined Insurance Company
Sentinel Security Life Insurance Company
American National Life Insurance Company
GPM Life
Americo
Humana
Oxford Life
Loyal Christian Benefit
Reserve National
Thrivent Financial
Heartland National
Order of United Commercial Travelers
Is the Name of My Medigap Company Important?
So, without a doubt, you have not heard of many of these Medigap companies. Should you buy a Medigap policy from a company you haven't heard of? Well, not necessarily, but you shouldn't outright avoid it either. The name of your insurance company, when it comes to Medigap policies, is just not very important (see highlighted excerpt from Medicare's "Choosing a Medigap" booklet).


Medigap plans, unlike other types of insurance, are completely Federally-standardized – coverage, where you can use the plan and claims payments. So the primary comparison factors are price and company rating/reputation. Although some of the Medigap companies listed above are smaller companies, some of them are rated very highly in financial stability. A broker that works with all of them (us or someone else) should be able to provide ratings in addition to premium rates.
If you are ever concerned about a company you are considering, you can check them out with your state's department of insurance – NAIC Map of DOIs.
What is the Best Medigap Insurance Company?
Because the plans are standardized, the "best" Medigap company varies considerably by location, age and other variables. The best Medigap company for you is a better way to phrase it. The best company for you should be whichever reputable Medigap company has the best rates for the plan you want, for your specific age and in your specific zip code.
Of course, some of the bigger companies in the Medigap market – Mutual of Omaha, CIGNA, Aetna, AARP – are also competitively priced and highly rated in many situations. But an independent broker would be able to provide exact pricing for your area and age.
What Plans Do Medigap Companies Offer?
Medigap companies can choose which plans they wish to offer from the standardized list of Medigap plans – they don't have to offer all 10 of the standardized plans and most companies choose only 3-4 plans to offer.
You can contact a specific insurance company, either online or by phone, to find out which plans they offer in your state. Or, if you are using an independent broker, they will provide you with the outline of coverage for each specific company which lists which plans a company offers in addition to other plan information and pricing.
_______________________
Secure Medicare Solutions is a leading, independent Medicare insurance agency. In business since 2007, we have worked with tens of thousands of Medicare beneficiaries on comparing and choosing the most appropriate Medigap plan for them. If you have other questions about Medigap companies or Medigap plans, you can contact us online or by phone at 877.506.3378.