Understanding Medicare can be challenging; however, it is essential, if you hope to be informed about your health insurance coverage and make wise decisions. Below, we've broken down the various parts of Medicare, what they cover, and how they work.
Medicare Part A
Medicare Part A is the part of Medicare that covers inpatient or hospital services. Under Part A, there is coverage for the following (list not exhaustive):
Hospital Care
Skilled Nursing Facility Care
Nursing home care
Hospice
Home health services
See Medicare's breakdown of what Part A covers and how it works: What Does Medicare Part A Cover?
So, how does Part A pertain to you? If you have worked 40 quarters (10 years) and paid into the Medicare "system", you qualify for Medicare Part A. If you are already receiving Social Security this will happen automatically. You'll receive a Medicare card leading up to your 65th birthday (usually 60-90 days before your 65th birthday). If you are not receiving Social Security, you should contact them to sign up for Medicare. For the large majority of people (those who have qualified through payroll taxes), there is no recurring cost for Medicare Part A.
Medicare Part B 
Medicare Part B is the part of Medicare that covers outpatient or doctor's office services. Some of the things that fall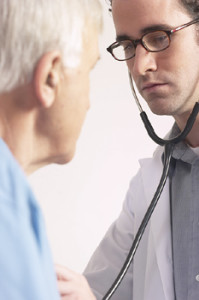 under the sphere of Medicare Part B are:
Labwork
Mental health inpatient and outpatient
Durable medical equipment (DME)
Ambulance services
See Medicare's breakdown of what Medicare Part B covers and how it works: What Does Medicare Part B Cover?
Signing up for Part B is a somewhat more of a "decision" than signing up for Part B, simply because Part B does carry with it a monthly recurring premium. This premium typically is deducted from your Social Security check if you are already receiving Social Security. For 2014, the standard Medicare Part B premium is $104.90/month.
For this reason, as well as the fact that it does somewhat duplicate some portions of employer/group coverage, people that are still working sometimes choose to delay Medicare Part B until retirement. This is, in some cases, a very wise decision. If you are trying to make this decision, it is highly advisable that you consider both options to prevent eligibility difficulties when you do want to sign up for Part B.
When you do sign up for Medicare Part B, regardless of whether it is at age 65 or later, that generates an enrollment period for Medicare Advantage (Medicare Part C) OR a Medicare Supplement plan (Medigap).
Medicare Part C
Medicare Part C is a relatively newer part of Medicare. This is usually referred to as Medicare Advantage. Medicare Advantage plans are plans sold by private insurance companies to take the place of Medicare Parts A & B ("original Medicare"). These plans often also include Medicare Part D (Rx coverage).
These plans are, numerically, most popular in urban areas, where provider choice is not as limited. This is, at least in part, because this type of plan does have more of a network component with doctors having to pre-agree to be in network on most plans and some plans working like an HMO (requiring a referral to see a specialist).
Overall, this type of plan is very different from a Medigap (Medicare Supplement) plan. The main areas of difference are premium, doctor availability, future portability, and long-term stability. If you are considering this type of plan, which is often a lower level of coverage, it is important to understand these differences before opting for Medicare Part C instead of Medicare itself.
The biggest "risk" is that, if you choose a Medicare Part C (Medicare Advantage) plan initially, you have to "qualify" medically to get a Medigap (Medicare Supplement) plan later. So the often-attempted strategy of choosing the lower level of coverage initially then planning to switch when you "need" better coverage is not prudent.
This page may help you in comparing Medigap vs. Medicare Advantage.
Medigap Plans (Medicare Supplements)
Medigap, or Medicare Supplement, plans are the other option to go along with Medicare coverage. These plans are designed to go with Medicare and do not replace it. They are Federally-standardized by the government but sold through private insurance companies.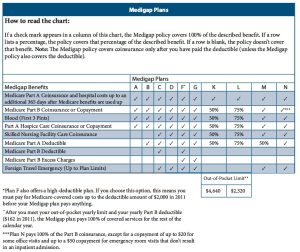 Comparing plans is much easier than it is on other types of insurance, as the standardization makes premium and company rating/reliability the primary comparative factors.
When you are considering Medigap plans, it is important to look at price first and foremost, and costs can vary a good bit from company to company.
Some of the advantages in Medigap plans are automated claims processing through the Medicare "crossover system", plan standardization, portability across state lines, and acceptance by any doctor that takes Medicare (there are no networks). To compare Medigap plans with a list of rates of for your age and zip code, go to Secure Medicare Solutions Medigap Comparison.
Medicare Part D
One of the most challenging parts of Medicare is selecting a suitable prescription drug plan and ensuring that you have the best available coverage for your specific medications. In reality, if you are on more than a couple of medications, your prescription drugs probably represent the majority of your healthcare costs.
The Medicare Part D prescription drug plans have been the source of much frustration, since they began in 2003, due to the dreaded "donut hole" and general confusion about what the plans cover. In most states, there are 30-40 different drug plans, with each plan providing a different level of coverage for various medications.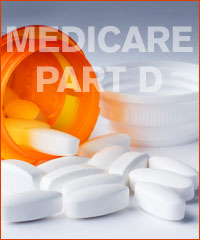 Because the coverage and your medications can vary so much, the ONLY way to be sure that you are on the plan that is most advantageous to your specific medications is to do a prescription drug analysis. You can do this yourself on http://www.medicare.gov or contact us to help you with it. If you email us your medications , we will provide the analysis for you. We have seen people save over $3,000/year on their medications just by switching to a plan that better covers their specific medications. It is definitely worth your time to do that analysis on an annual (or at least bi-annual basis).
Keep in mind that, although you can change your Medigap coverage (Medicare Supplement) at any time, there is an annual election period for Medicare Part D. This period runs October 15-December 7 each year. Unless you fall into a unique circumstance, this is the only time that you can change your Part D plan.